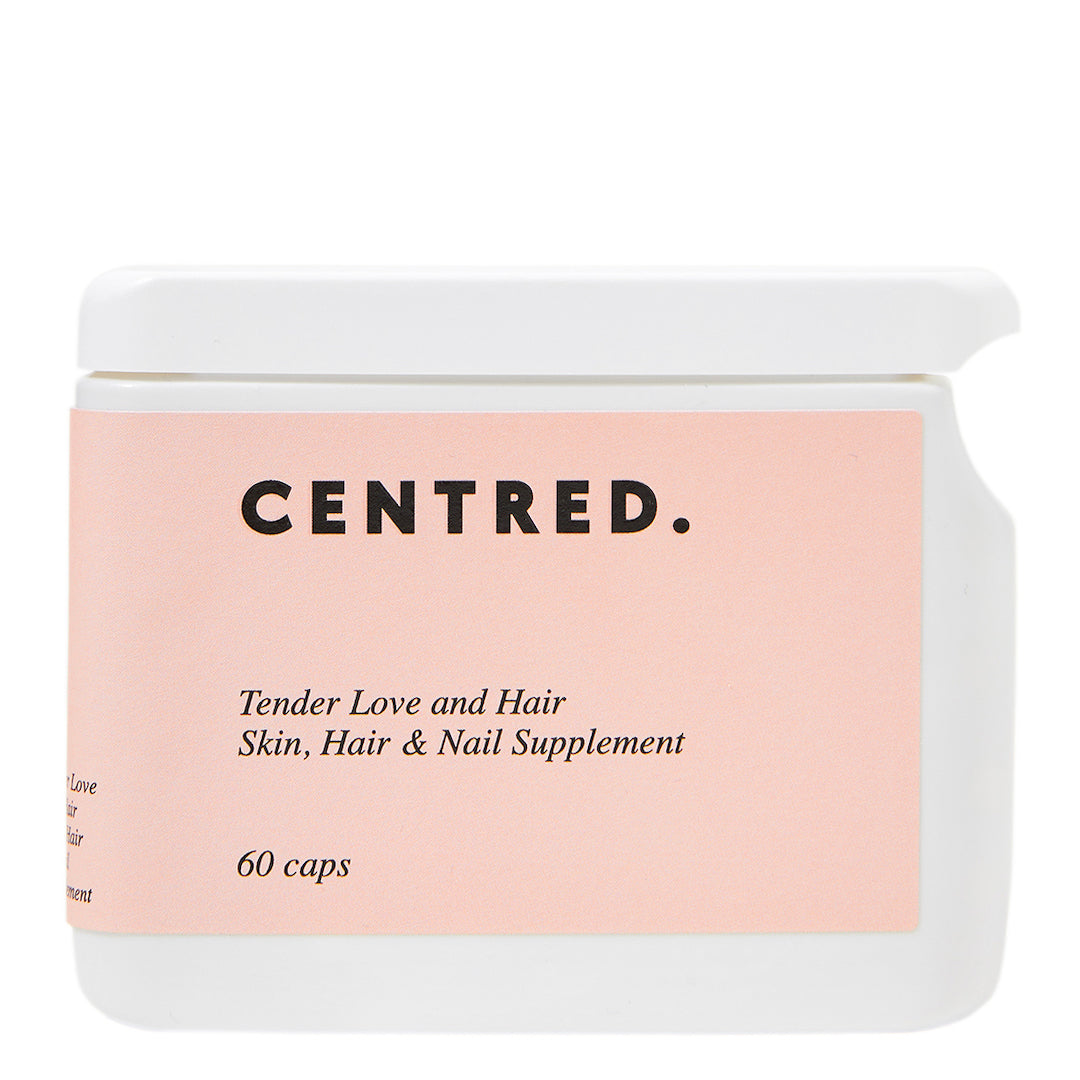 Tender Love and Hair Supplement
Sale price

£30.00
Regular price
(/)
Size: One month supply.
Want thicker, fuller healthier hair? Tender Love and Hair supplement is a daily dose of targeted and effective nutrition specifically designed to address the root causes of thinning hair and maximise hair growth potential. Backed by science, each capsule contains a unique blend of vitamins, minerals and herbs that help to counteract the effects of stress, increase energy levels and support the immune system for healthier, shinier, stronger hair.
Suitable for both women and men, this supplement is designed to promote hair growth support busy lifestyles, feeding the necessary nutrients to your stressed out hair. This product is gluten free, dairy and soya free and is suitable for vegetarians and vegans.
How it works
This multi-vitamin targets the root causes of thinning hair, featuring key ingredients bamboo extract, biotin, a selection of B Vitamins and amino acids. These vitamins and minerals help to counteract stress, strengthen your hair and improve your overall hair quality. We advise taking 2 capsules daily with water, ideally at breakfast. Some customers experienced results in just a few weeks, although we recommend taking our TLH Supplement for at least 3 months before judging the results. Remember to capture your before and after pictures to track your hair progress! 
How to use
Suitable for women and men, we advise taking 2 capsules daily with water (one morning, one evening) for a minimum of 3-6 months to see results. One capsule a day can be taken as a daily multi vitamin that helps to regulate energy levels and strengthen the immune system. 
Ingredients
Bamboo extract

 

- Silica found in Bamboo is a vital mineral for strong healthy hair, boosting strength, shine and suppleness.
Biotin

 

- Plays a vital role in helping the body to convert nutrition, particularly Amino Acids which are the building blocks of protein and what hair is made of.
Aloe Vera

 

- Known for its hair growth capabilities Aloe Vera is also one of natures finest healers. Repairs skin cells in the scalp (organic)
Amino Acids

 

- Hair is made of Keratin, a protein of which Amino Acids are the building blocks and vital for the creation of keratin.
Zinc

 

- vital for strengthening the immune system and is highly regarded from improving the health of hair, skin and nails.
Iron

 

- Vital for the production of red blood cells. Lack of Iron can cause severe tiredness and lead to hair loss.
Vitamin C

 

- A powerful Anti-Oxidant known for improving the body's ability to absorb nutrients, particularly Iron.
Ingredients: Bamboo Extract, Vitamin C (Calcium Ascorbate), Aloe Vera 200 x concentrate, Vitamin B5 (Calcium Pantothenate), Zinc (Citrate), Biotin, Seaweed (Fucus Vesiculosus), Iron (Citrate), Vitamin E – Natural D - Alpha Tocopherol (40 iu), Vitamin B1 (Thiamine hci), Vitamin B2 (Riboflavin), Vitamin B6 (Pyridoxine hci), Vitamin b12 (Cyanocobalamin), Selenium (Methionine), N – Acetyl Cysteine, L – Methionine, L – Lysine, Capsule shell: vegetarian cellulose.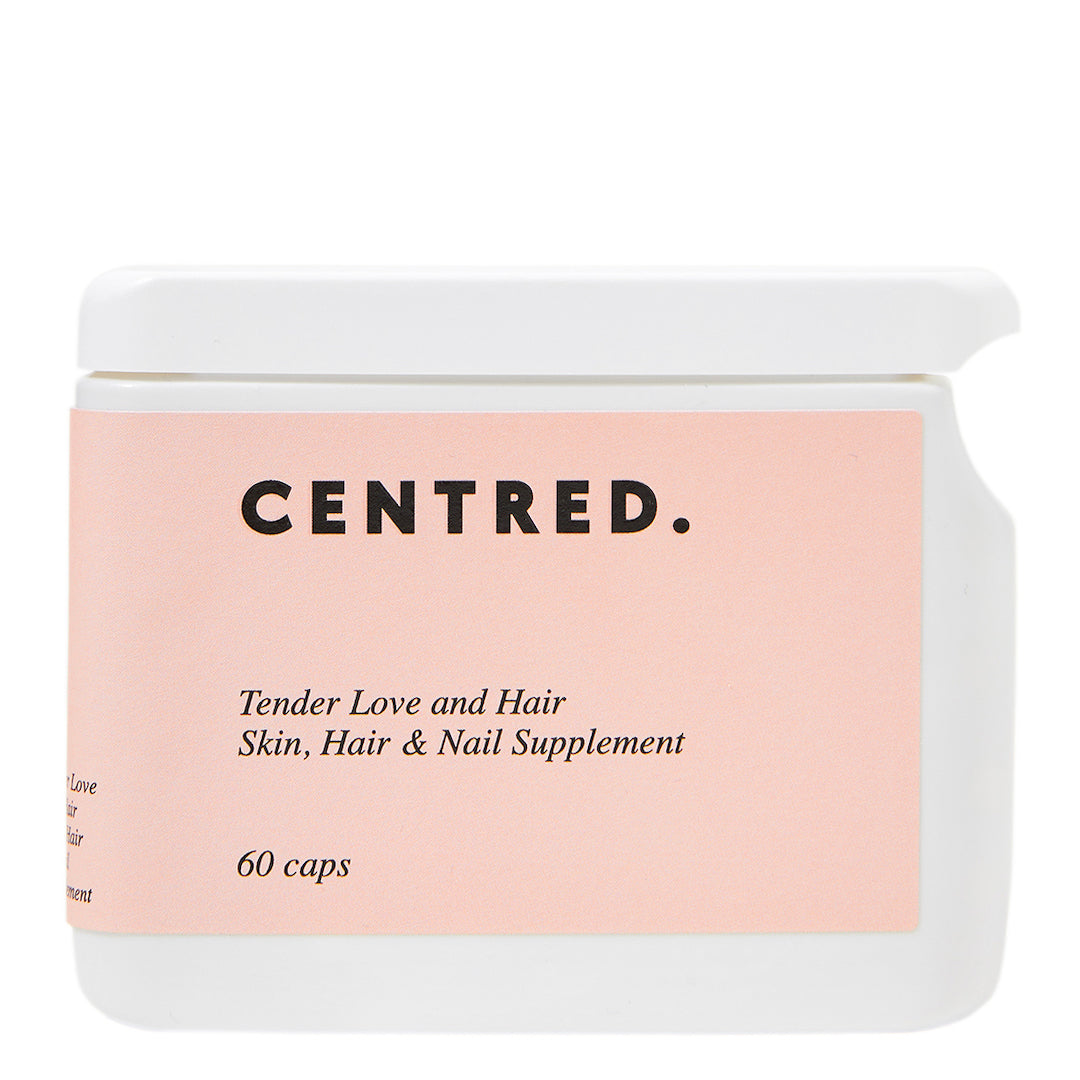 Tender Love and Hair Supplement
Sale price

£30.00
Regular price
Choose options